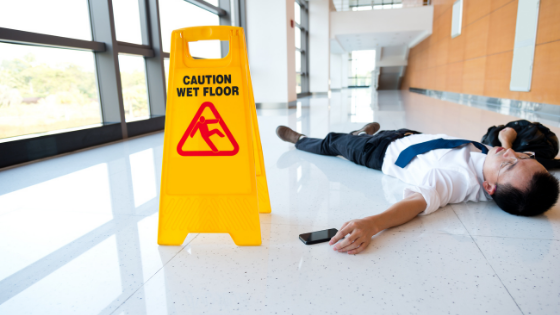 Workplace Slip and Fall Accidents
Surprisingly, slip, trip, and fall accidents are among the nation's leading causes of death (15% of all accidental deaths, according to OSHA). Workplace slip and falls should be taken very seriously and prevented at all costs. 
What is a Slip and Fall Accident?
A slip and fall accident defined is when someone slips on a surface and twists and/or falls on the property and sustains an injury or dies as a result. With remote work being prevalent at the current time, an accident like this that arises out of the work environment and sustained within the course and scope of employment would be covered, even at home.
The causes of slip and fall accidents are many. Some of the leading causes of workplace slip and fall accidents are:
·    Liquid spilled on the floor.
·    Ripped carpet.
·    Poor lighting conditions.
·    Ice or snow.
·    Unsafe stairs.
·    Uneven floors.
·    Unfinished areas such as construction sites without railings or safeguards.
·    Unsecured ladders.
·    Furniture or clutter.
·    Faulty equipment.
How Workplace Accidents Can Be Prevented
The thing about workplace slip and fall accidents is that many of them are preventable. If employers take the proper steps to secure the work environment and provide employees with the tools and training needed, no one needs to be injured in a slip and fall accident. Some of the ways slip and fall accidents can be avoided are:
·    Cleaning up spills immediately.
·    Proper maintenance of walkways and entryways (especially during wintertime).
·    Securing ladders and other movable equipment before use.
·    Proper employee safety training and follow-up. 
·    Checking the job site for dangers before starting work. 
·    Wearing proper safety gear and winter clothing such as slip-resistant shoes.
·    Provide adequate lighting in all areas where employees work. 
·    Slip-resistant flooring or stair treads. 
·    Well-marked areas where flooring is uneven. 
·    Following OSHA guidelines for safety. 
·    Using the correct tool for the job.
The Employers' Responsibility
Ultimately your employer is responsible for providing a safe environment for you to work. If there is faulty equipment that routinely causes spills or discharge of liquid, creating a slipping hazard, they need to find a solution. 
Additionally, companies with employees need to have good maintenance crews around to fix unsafe areas, clean up spills and de-ice walkways and doorways. Regular snow shoveling to remove hazardous conditions can prevent dozens of injuries. These same crews may be responsible for decluttering offices and keeping corridors and exits free of debris that someone could trip over. 
Maintenance of equipment is another significant factor that could prevent workplace slip and fall accidents. Ensuring that ladders are operational and  secured and used correctly is critical to ensuring the safety of employees.
Another big area where employers can safeguard their workers against slip and fall accidents is safety training. Proper training goes a long way toward preventing accidents. If staff know the safe way to handle potentially dangerous situations, it can minimize the risk and prevent many serious accidents.
What to Do if You Suffer a Slip and Fall Accident
If you suffer a slip and fall accident while on the job, you may need professional help dealing with the aftermath. Contact your trusted worker's compensation lawyer for a free consultation today.