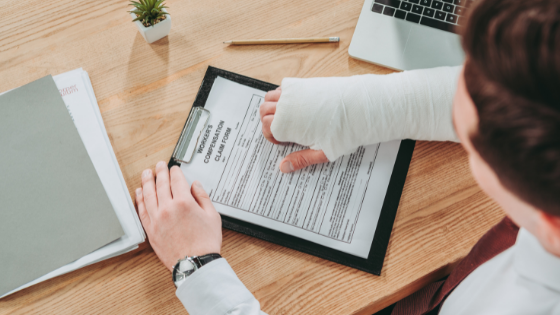 Can I Work While Collecting Workers' Compensation?
Workers' compensation insurance provides benefits for employees who are injured on the job. These benefits include lost wages and medical expenses. The question is, can you work while collecting workers' compensation?
In most cases, the answer is yes, if you are not working or on a limited duty status while you are treating.
Florida Workers' Compensation Rules
According to Florida workers' compensation statutes, if an authorized treating physician returns a worker to full duty work, even if continued treatment is needed to fully heal from the injuries, the workers' compensation insurance company will not pay any lost wage benefits. Additionally, if the employee is well enough to return to work but is to do limited duty work and is paid his/her pre-accident wages, then no lost wage benefits are due.
However, in certain circumstances, the employee may be able to return to work in a limited capacity and not earn their full pre-accident wages.  For example:
 If the employer pays the employee less than 80% of the employee's pre-accident average weekly wage, they may receive a wage loss benefit called temporary partial benefits from the worker's comp carrier.
If an employer cannot create a "light-duty" role for the employee, which keeps them out of work, they will continue to collect benefits until they can return to their regular job or a reduced-duty job for which they receive less than 80% of their pre-accident wages.
Complications
Other situations arise that complicate the situation further. If an injured employee is out on recovery and wishes to take another or different job, the issue becomes more complex. Technically, if they are out of work to heal, and they are collecting temporary total benefits allowing them to do so. As long as the new job does not conflict with any restrictions related to the injury, it is possible to switch jobs. IF benefits are payable it will only be in the circumstance where the new wages are less than  80% of the pre-accident wages. These would be temporary partial benefits.
Another issue is if the employee works more than one job at the time of the accident. IF both jobs are covered by worker's compensation even at different employers then the total earnings are combined to determine the proper average weekly wage. If neither job can be done, then temporary total benefits would be paid. If either job can be done post-accident, then the 80% rule applies and temporary partial benefits would be payable taking into account the past accident earnings
Regardless of how many jobs the worker has, they must report all wages and income to the workers' compensation insurance company. There is a strict rule about honesty and failure to honor that could subject an employee to criminal charges.
How to Get Help
Workers' compensation cases can quickly become complicated and confusing. Every situation is uniquely different, and everyone recovers at their own pace. The laws regarding workers' compensation are strict, and it's easy to misstep if you are not careful.
If you need help after being denied workers' compensation benefits or have a complex case or want to know what to expect just after an injury, we can help. Please contact Barry Stein for a free consultation today.